On Amazon: Grow Your Business: a crash course in online marketing
'Grow Your Business: a crash course in online marketing' – my new book – is now available on Amazon.

My New Book On Amazon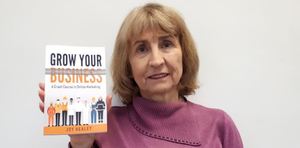 It's a real "paper" book. Not an e-book. One my readers can hold in their hands and even read in the bath if they want to
Finally I have launched it on Amazon and Kindle and here's a picture of me holding the first print of the proof.
The grey stripe across the title just says it's a proof copy which wasn't for resale. It's live on Amazon now – click here.
Getting it published on Amazon was a bit of a saga, and if you're interested in my stumbling attempts to get the book online, you're welcome to read the details here at my main blog.
Why Would I Write A Book?
I have created websites / blogs for clients in the past, and while I enjoyed the process, I couldn't do it at as low a price as they might have hoped.
Getting the site online isn't the problem. Largely the time-consuming part of the experience was the client getting their act together and knowing what they wanted to say.
Also there are some technical parts that people need explaining…
Why do I need a domain?
Why do I need paid hosting (WordPress.org) when there is free hosting available at WordPress.com?
What is hosting anyway?
What is a page?
What is a post?
The first few questions are repetitive to answer, and if I can point someone in the direction of my book, it will save us both time.
Yes, I know I could probably either tell people to research it themselves, OR charge them a consultation fee to explain it all, but neither seems particularly helpful.
So to point them in the direction of my book seems a fairer solution.
Potential clients may or may not choose to use the DIY route for getting a blog online, but once they have it online they still need to know how to USE it.
For instance:
Having loaded a page, how do I amend that spelling mistake?
Wouldn't it be nice to insert a video here?
Why do I want an auto-responder
etc etc
While experienced bloggers have all this down to a 'T', it certainly took me a lot of trial and error to get to the level of proficiency I am now at. And there were several occasions when I realised I'd made a mistake and had to back-track.
Which brings me to the question…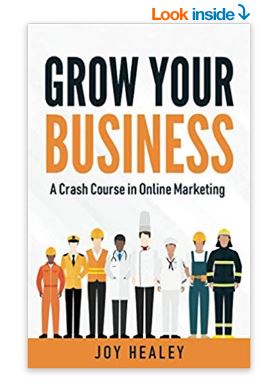 Who Is It NOT For?
If you are a seasoned blogger anything tt won't tell you don't already know. Although see below for some ideas on how to use it to grow your business too….
Who Is It For?
My book is aimed at the small businesses who don't yet have a website or blog. According to clutch.co, 36% of small businesses don't yet have their own website / blog.
Those of us who already have blogs may find that surprising, but there was once a time when WE had no blog. Imagine how many more traditional, small High Street businesses and services have yet to dip their toe in the online water that we take for granted.
So my book is a whistle stop tour round the why and how small businesses should and can get started. It includes resources and links to help them out-source the 'nasty bits', that they'll only need to do once – as long as they get it right.
The setup stage is followed by advice on adding content and building a list to stay in contact with their clients.
List Building Story
Experienced bloggers and online marketers know how important list-building is, but many people haven't considered it at all.
For example, when I was telling him about the contents of my book, even my very intelligent and entrepreneurial son just couldn't understand the value of building a client / prospect list.
To illustrate the importance of list-building, I explained how, a year ago, I had my oven cleaned by a local firm and opted in to their tips newsletter. The firm has been sending me cleaning tips all year and of course I didn't follow them, so my oven was well ready for another visit.
So when I received the promised reminder that my oven was due for cleaning before Christmas – well, there I was with my credit card. I was actually grateful for the reminder as I had visitors coming to stay. I ordered a call back at about 1am (that's when I do things) and was woken up at 9am with a phone call to book my appointment.
My son can think of better uses for my money – but I can't – and I will have an oven to be proud of on Christmas Day. No – you don't get to see a picture of it uncleaned.
Grow Your Business For Bloggers
I've already explained that the book won't teach an experienced blogger anything new about blogging.
BUT, if you sell your services building blogs, you could use it as a sales aid to get grow your business.
My book explains that prospective blog owners will need domains, hosting and an auto-responder. Services that many bloggers and website designers already sell.
You could use the paper-back or Kindle (currently at a low introductory price) to explain to potential clients what services they will need and why. You can then offer to be their 'expert' who will take away even the minimum steps that the book encourages them to do themselves. And of course you can sign them up to your preferred auto-responder, using your own affiliate link and earn an ongoing commission for the rest of their online career.
Hopefully your 'explanation' time will be reduced and you will have a captive audience, read to buy from your link, when they have read my book.
Thanks To Chris Payne And Nick James
This book was one I started about three years ago! It was badly targeted and I guess it just fizzled out because I knew in my heart of hearts it was 'wrong'.
But being a published author had always been something of a dream, since I won a couple of essay prizes at school. Of course, in those days 'being a writer' wasn't a career that sensible parents would encourage their day-dreaming daughter to pursue.
So it remained an unfulfilled dream.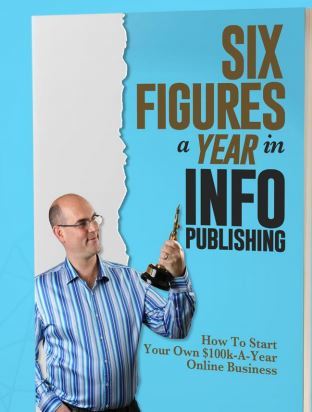 Then, through Nick James, I bought a book creation course with Christoher John Payne, and things started to fall into place. Chris works with coaches and consultants who want to take their business to the next level by publishing a book to establish them as an expert in their niche.
In the course Chris sets out the system that he has used to help many of his clients produce books they can be proud of.
One client and his book that you might be familiar with is Internet Marketer of the Year, Nick James and his book on the right.
At the time of writing you can request a free ($6.95 P&P worldwide) copy of Six Figures a Year in Info Publishing, which Chris helped Nick create and publish.
Finally my schoolgirl dream was fulfilled and the paperback and Kindle versions are now available on Amazon.
Thank-you And A Request
Thanks to Chris and his course I am a published author.
Now I understand his process and have had the learning curve of rescuing this book from its 3-year doldrums in the dust of my hard drive, the next book will be far easier.
If you know any small business that would benefit from taking their business online, please recommend my book on Amazon, Grow Your Business – A crash course in online marketing.